Debris Removal Demonstration Project
November 2005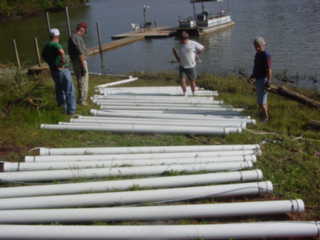 Leesville Lake Association is pleased to announce that it has received funding from various sources for the Debris Removal Demonstration Project. The three counties surrounding Leesville Lake, Bedford, Campbell and Pittsylvania, have contributed $5,000 each while American Electric Power Co., owner-operator of Smith Mountain and Leesville Dams, has donated $10,000. The project was conceived to explore ways to collect, remove and dispose of natural occurring debris from Leesville Lake. Previously, association members gained valuable insights and ideas by visiting other Virginia lakes and lake associations that have debris removal programs. Leesville Lake is a pump-storage lake where the water level fluctuates daily creating a different environment for removal and perhaps requiring different removal methods. The project is viewed as a learning experience where methods will be tested for economy of time and labor as well as expense.
The money, totaling $25,000, is being used to modify pontoon boats to push debris into coves and buy equipment such as floating booms to contain debris. A boom has been secured on opposing shores of a cove to prevent drifting. One containment cove can be seen from State Road 608 in Bedford County. Later a crane will lift the debris from the lake and place it into rollback containers for a trip to a recycle center where it will be made into mulch or compost.
Leesville Lake Association held the 2nd Annual Leesville Lake Beautification Day this past spring when debris collection and disposal sites were manned by association members. Debris removal is important issue of the association as well as other issues like boating safety, navigation aids, water quality and shoreline erosion. Membership in the 2 1/2 year old organization is open to all lake users.